Bradley Palmer State Park in Topsfield is an amazing spot to get outdoors on the North Shore.  With over 700 acres of land to explore it can keep you occupied for hours.  Whatever your sense of adventure, Bradley Palmer has something for you.
Biking
Paved access roads throughout the park are perfect for little ones and and folks that prefer an easier ride.  Entry level mountain bikers will find miles of wide bridal paths to explore all day while they get used to off road riding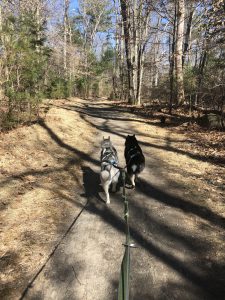 .  More experienced riders can also find more technical single track riding by exploring off the beaten path.  I recently started taking my huskies there to pull me around on the bridal paths.
Hiking and Walking
The same paths above also provide walkers and hikers with a lot of areas to explore.  The terrain is mostly easy and moderate making it a perfect place to take a nice walk with the family.  We recently stoped buy on a beautiful spring afternoon.  The parking lot was crowded with people but we are able to quickly find less traveled trails and had plenty of space and privacy as we explored the park.
Horse Back Riding
Bradley Palmer is a very popular spot for equestrian riders.  On a nice summer day you'll see the trailers off to the right as soon as you pull into the park.  As you walk, run or ride through the park you're most likely going to come across the horses trotting through the park.  It's always an awe inspiring experience to see these animals in action up close.  If you bring your dog, make sure you keep them on a leash to be respectful to those on horseback.
Pools and Picnics
Is there a better better way to spend time enjoying the outdoors on the North Shore with your little ones than with a picnic and and a splash pool?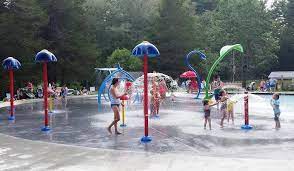 The park has dozens of picnic table and grills available for use by the public so you can make a day out of it and keep the children fed.  Perhaps the parks best feature is the splash pool.  On hot summer days kids can cool off and entertain themselves for hours.
Get Outdoors on the North Shore
For more information on Bradley Palmer and the other DCR parks where you can get outdoors on the Massachusetts North Shore visit www.mass.gov/dcr/parks/northeast.